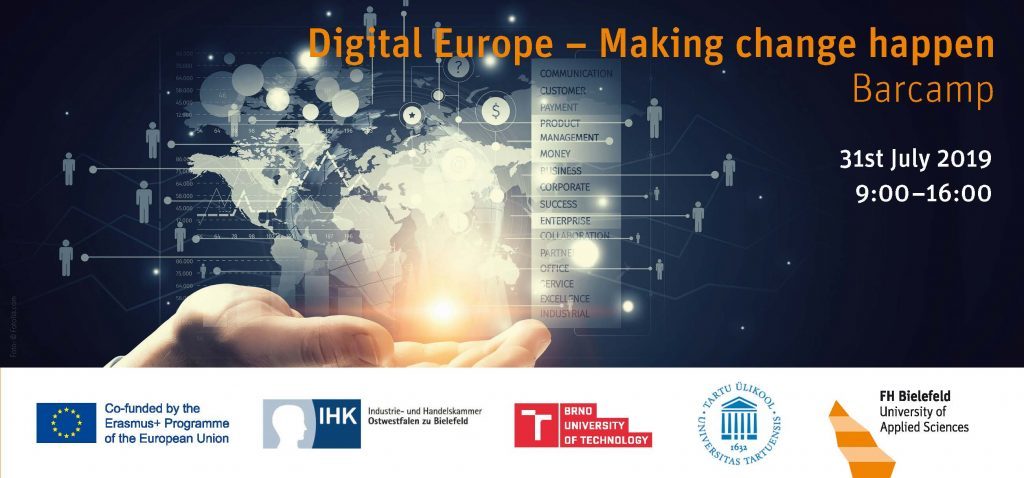 When: 31st July 2019 | 9:00–16:00
Venue: Bielefeld Chamber of Commerce and Industry / IHK Ostwestfalen zu Bielefeld Elsa-Brändström-Straße 1–3 33602 Bielefeld
Register: www.t1p.de/bxst Or register directly via email: barcamp@fh-bielefeld.de
WHAT IS A BARCAMP?
√ No pre-fixed agenda/speakers.
√ Any participant can present ideas, projects, topics and
offer a discussion group.
√ If participants wish so, presenting content is welcome.
Your chance for active participation – why not use the stage?
Topics are open, but should revolve around
'Digital Europe – Making change happen'
Do bring your ideas and projects. Design your own little
event/workshop etc
Ideas? Why not share them with us, ahead of the event?
Fees? None.
Looking forward to having you on board!
PROGRAMME
09:00 Patricipants arrive, breakfast snack.
09:30 Welcome by Dr. Christoph von der Heiden,
CEO of Bielefeld Chamber of Commerce and Industry
09:40 Programme – introduction and agreements
Uwe Lück, Bernd Kleinheyer, Thorsten Ising
10:00 Keynote contribution
10:30 Group work phase I
12:00 Lunch
13:30 Group work phase II
15:00 If desired – presenting ideas to the plenary. Coffee and sweets.
Registration and questions via email: barcamp@fh-bielefeld.de