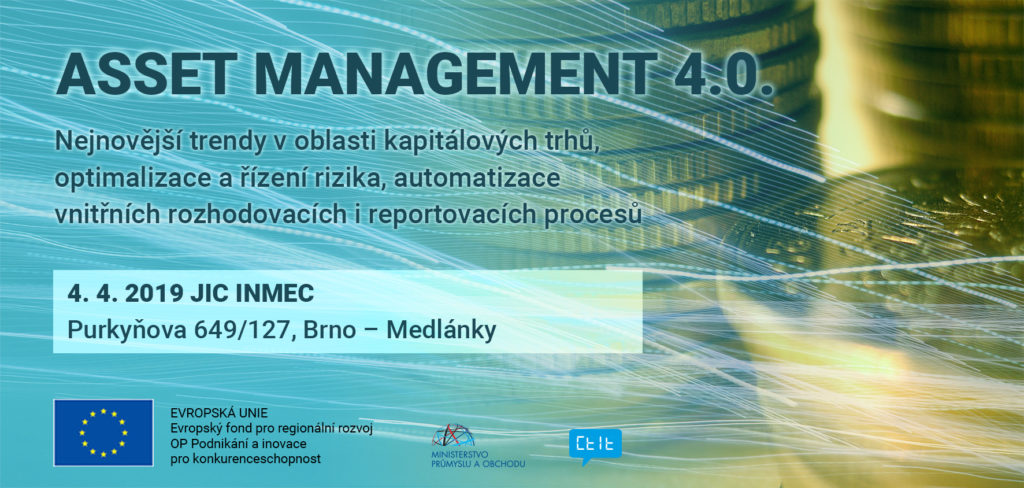 404 Not Found
We would like to invite you to the Asset Management 4.0 conference, focusing on the latest trends in capital markets, risk optimization and risk management, automation of internal decision and reporting processes, the use of new cloud technologies for data analysis and the creation of mathematical and statistical models for decision support. The complexity of the program will be provided by experts in asset management, data analytics, technology, compliance and brokerage.
The conference is being prepared for participants interested in trends in capital markets, where application of the latest technology in decision making and automation can be appropriately used.
The complete program will be released soon. You can look forward to interesting topics and discussions from the following areas:
Effective optimization and decision-making processes

Technology
WHEN: 4.4.2019, 9.30 – 15.00 (registration of participants from 9.00 am)
WHERE: JIC INMEC, Purkyňova 649/127, Brno – Medlánky, Czech Republic
Conference program
Registration
9:00 – 9:30
Welcoming Remarks
Michal Dufek, Association CTIT
9:30 – 9:45
Morning Session
uuBudgetMan a uuFinMan – how is the money managed in Unicorn
Vladimír Kovář, Unicorn College s.r.o.
9:45 – 10:30
Coffee break
10:30 – 10:45
Decision support and quantitative research technology
Jan Budík, Brno University of Technology
10:45 – 11:30
Utilization of Evolutionary Algorithms for Modeling Returns and Risks of Financial Assets
Miloň Krejča, CYRRUS ADVISORY, a.s.
11:30 – 12:15
Lunch
12:15 – 13:15
Afternoon Session
Evaluation of Macroeconomic Variables with DSGE Models
Michal Brožka, CYRRUS a.s.
14:00 – 14:45
Technologies and Automation in Investment Services from the Compliance Perspective
Lumír Schejbal, SCHEJBAL & KOPEČNÝ, ADVOKÁTNÍ KANCELÁŘ
14:45 – 15:30
Networking
15:30 – 16:15
Lecturers
Participation in the conference is free of charge. In case of your interest, please register via the registration form below.
Jana Valová, jana.valova@ctit.cz, +420 734 622 343
Natálie Jarušková, natalie.jaruskova@ctit.cz, +420 775 424 320
We look forward to seeing you. The Technology Platform for Communication Tools and IoT.
Partners