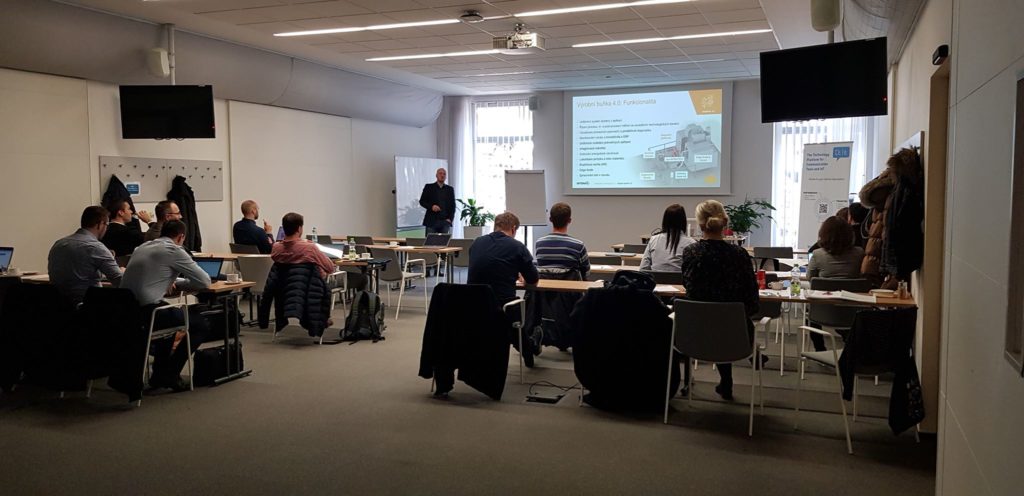 On Monday, January 14, 2019, the fourth conference, held under the auspices of the CTIT Technology Platform, took place in the INMEC building of the South Moravian Innovation Center. The topic of the conference "The Present and Future of Industry 4.0." suggests its thematic focus, which, in addition to the development and trends in IoT and the activities of the CTIT Technology Platform, focused mainly on the state of production 4.0. possibilities of development, implementation and digitization in industrial production.
Representatives of TP CTIT project team Jana Valová and Natalie Jarušková presented ativities of the CTIT Technology Platform and the interpretation of the conceptual version of Technology Foresight for Communication Tools and IoT, which is being developed by both the project team of the platform and selected experts.
This was followed by the speech of Mr. Jiří Neužil from the research center INTEMAC. On the topic "Experience with the introduction of digital technologies into manufacturing companies". Mr. Neužil introduced the key activities of the INTEMAC Business Support Center for Digital Infections and DIGIMAT. It provides consulting services to manufacturing companies for digitization. By participating in the program, the company will get a proposal for a tailor-made solution, incl. recommendations for implementation and funding. Production Cell 4.0 represents a basic unit of smart manufacturing that demonstrates selected concepts of the Industry 4.0 concept, ready for implementation in manufacturing companies. Part of the lecture included case studies from manufacturing companies that successfully passed DIGIMAT and gained new competitive advantages.
His presentation was followed by the presentation of Mr. George Bavor, sales director of industrial divisions Siemens. He was successful with a very engaging presentation on "Industry 4.0 – From Myth to Reality" and introducing real solutions. Very interesting was also his experience with the deployment of these solutions in the Czech company environment.
The success among attendees had also SimpleCell Networks representative, Martin Levanti, and his lecture on "The contribution of LPWAN technology to optimize production".
During and after the official program, networking took place between the participants, participants and representatives of the CTIT Technology Platform. This, as organizers, brought us a very positive feedback which pleases us and motivates us to work further, but also has been an excellent means of getting to know and exchanging contacts that we hope can lead to future cooperation.
In April 2019, we will be hosting two other conferences, of which we cordially invite you. You can find more information on our site and in the Events section.