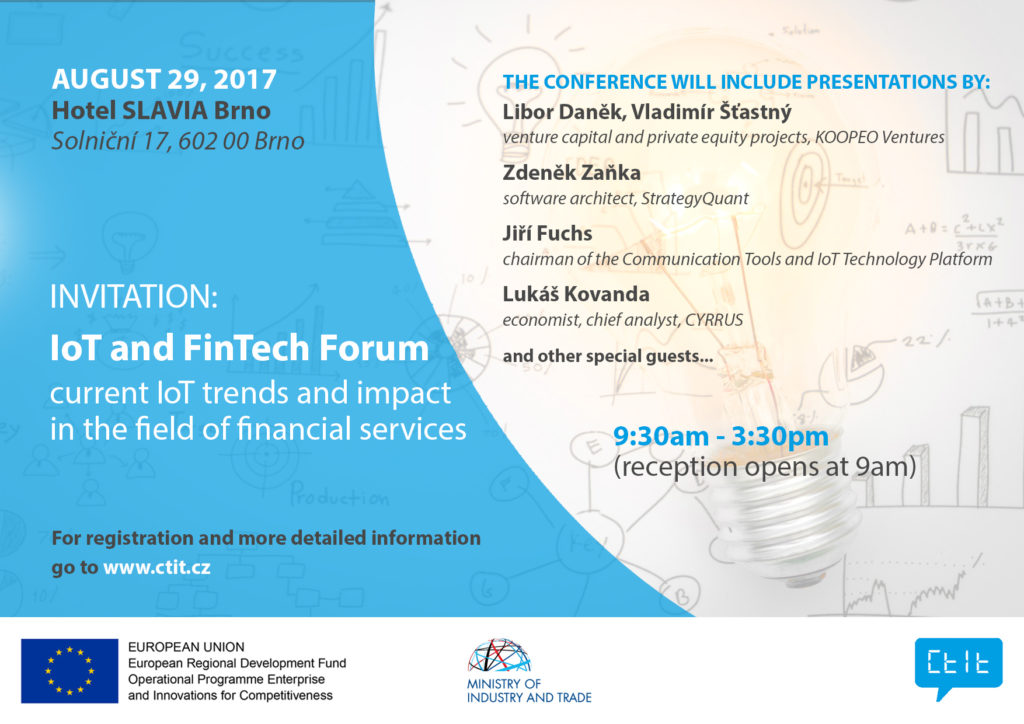 On behalf of the Technology Platform for Communication Tools and IoT (CTIT), we would like to take this opportunity to invite you to the conference entitled "IoT and FinTech Forum – current IoT trends and impacts in the field of financial services". The aim of the conference is to present current trends, developments, and the future of one of the most dynamically developing areas of IoT – FinTech in the Czech Republic and the world.
AUGUST 29, 2017
Hotel SLAVIA Brno
Conference program
Conference program
9:30am – 3:30pm. (registration opens at 9am) / Solniční 17, 602 00 Brno
Conference check-in
9:00- 9:30am
A word of introduction
9:30- 9:40am
Morning block
9:40-10:00am
Introduction of the activities of the Technology Platform CTIT
Jiří Fuchs, chairman of the Technology Platform for Communication Tools and IoT
10:00-11:00am
Current trends in FinTech
Zdeněk Zaňka, software architect, StrategyQuant
11:00-11:30am
Mobile Payments in the Czech Republic
Libor Daněk, Vladimír Šťastný, venture capital and private equity projects, KOOPEO Ventures
Lunch break
11:30-12:30pm
Afternoon block
12:30-13:30pm
Robots and co.: Threat squared or opportunity squared?
Lukáš Kovanda, economist, chief analyst, CYRRUS
13:30-14:00pm
Internet of things in the Sigfox
Martin Levanti, mobile operator for IoT, SimpleCell Networks, a.s.
14:00-14:30pm
Legal regulation of FinTech
Tomáš Kopečný, partner of the legal office SCHEJBAL & PARTNERS
14:30pm
Networking with refreshments
For registration, please use the form below.
Free entrance, limited capacity.
The Technology Platform for Communication Tools and IoT:
Jana Valová, jana.valova@ctit.cz, +420 734 622 343
Natalie Jarušková, natalie.jaruskova@ctit.cz, +420 775 424 320