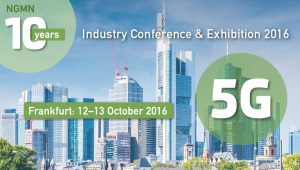 Don't miss the 6th NGMN Industry Conference & Exhibition, taking place on 12th & 13th October 2016 in Frankfurt/Germany!
The event features the announcement of leading, international operators' and vendors' requirements for the future 5G technology platform. This will be complemented by an in-depth presentation of new 5G enabled business opportunities and use-cases introduced by executives and subject-matter experts.
The Industry Conference & Exhibition will bring together key players from the entire mobile ecosystem and offer a unique networking platform throughout the 2 days. With an impressive line-up of top-level speakers talking about high priority topics of our industry, you will be part of a global audience of operators, vendors, innovators, media and analysts.
On top of the NGMN Industry Conference & Exhibition, NGMN will celebrate with you its 10th Anniversary. You can expect an evening filled with entertainment, great food, excellent networking opportunities and special surprises.
For registration or further information on sponsoring, exhibition opportunities, hotel accommodation, pricing etc. please visit the event website (ice2016.ngmn.org) or contact office@ngmn.org directly.